Categories
Oak's new curriculum partners and subject experts

Tom Rose
Education Director
We're delighted to announce the partners and subject experts we will be working with to develop our new curriculum and teaching resources, which will start rolling out from autumn 2023.
At our heart, Oak is a collaboration of teachers and experts sharing to help their peers. Drawing on the breadth of expertise across the sector remains central to our approach.
The greatest expertise in curriculum design and resource development exists across our brilliant schools, subject associations, publishers and other experts. Our aim is to invest in and share this, so every teacher has the highest quality support available to them, whenever they need it, free of charge. All to help lower workload and increase teacher expertise.
The journey so far
In September last year, we shared the exciting news that Oak will be here to stay.
We're proud of the thousands of free resources we currently have. Our latest research found a third of all teachers have used Oak over the past 6 months, and that 95% are satisfied or very satisfied with the quality of them. However, they were made for remote teaching.
Over the next three years we're therefore going to work with brilliant partners to create thousands of brand new teaching resources to better support your planning, in-class teaching, and help you develop your curriculum while also still providing video lessons that can support learning and any disruption to education for any reason.
We're starting with maths, English, science, history, geography and music, and last year we launched a procurement process to find new partners. Later in 2023 we will start an open process to identify partners to create curricula and resources for a wider range of subjects. This will cover primary and secondary modern foreign languages, RE, citizenship and RHSE, computing, art and design, PE, and design and technology.
We also launched the opportunity to join one of our subject expert groups - teachers and other experts providing independent feedback and advice so we best meet the needs and diversity of the country's education sector. In total, we received nearly 200 applications to help shape our future.
In each subject, the work of our partners and the input from each subject expert group will be coordinated by a Subject Lead in the Oak team. Over the last few months we've also been hiring these in-house curriculum experts, who'll work with our partners to make sure each of our new curricula and resources are of the highest quality.
A diverse, collaborative community
Our expert teams are therefore composed of our curriculum partners, independent subject experts and Oak subject leads. We're delighted they draw on a diverse range of experience and backgrounds. We value the range of opinions and impartial expertise that these groups will lend us when building our own independent curriculum plans and teaching resources.
Find out about the full team and our specific curriculum approaches in each subject:
English - Primary: Fox Federation; Secondary: Twyford Church of England Academies Trust
Maths - Primary and Secondary: Mathematics in Education and Industry (MEI)
Science - Primary and Secondary: The University of York Science Education Group and The Centre for Industry Education Collaboration (CIEC), University of York
History - Primary: Pearson Education; Secondary: Future Academies
Geography - Primary: Geographical Association
Music - Secondary: Knowledge Schools Trust
In this round, we did not appoint a partner in secondary geography or primary music. We're currently reviewing the next steps to make sure we can offer the highest quality support in these areas.
Our new lessons and curriculum principles
This is just the start. Over the coming months our partners will be developing their curricula with the support of our expert groups. Our first set of new lesson planning and teaching resources will be available from autumn 2023, with full curriculum packages by summer 2024. Over the next few years, we'll continue to create and share new resources across other subjects too.
One of Oak's curriculum principles is diversity, and this will be a focus for subject expert groups. In addition, Oak will shortly be launching a process to appoint an organisation who specialises in this field, working across subjects and Oak's partners to help us deliver breadth and diversity in content, language, texts, media and our teachers.
Our curriculum and resources will all be underpinned by our new curriculum principles and approach. These lay the foundation for quality and coherence, whilst giving teachers' flexibility.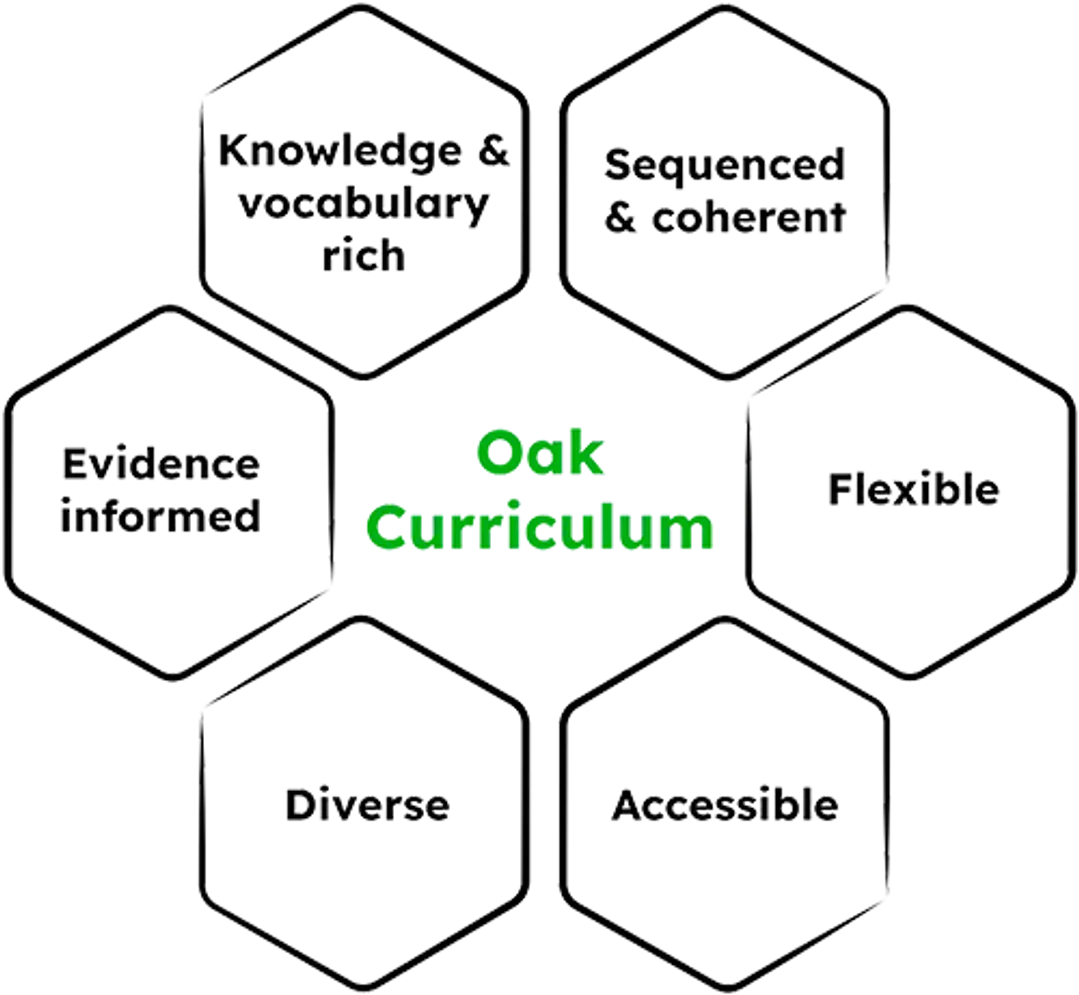 Teachers will have full autonomy in whether to use Oak's optional curriculum and teaching resources at all. Teachers using them only if they meet their needs, and adapting using their professional judgement, are central to our stance. Teachers too will decide how lessons are delivered. Oak's new teaching resources will not be a finished lesson, as only teachers can plan how to use them, and how to design and deliver their lessons in the context of their school and students. We'll actively encourage teachers to consider different methods.
How you can get involved
There are many ways you can stay up to date and get involved to help shape Oak:
Let us know how you're adapting our teaching resources and share your thoughts.
Sign up below to be kept updated on our latest curriculum developments and other helpful content by email. Unsubscribe at any time. Read our privacy policy.